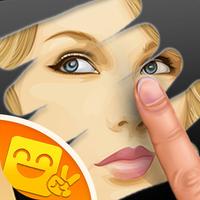 Scratch Celebrity Quiz
Free Get
Scratch Celebrity Quiz Description
You love puzzle quiz games? Get ready to experience the most amazing quiz puzzle game for guessing famous people. You are sure to enjoy this unique scratch and win character quiz game.
This unique picture trivia quiz game is extremely easy to play. The game has challenging levels for everyone who loves puzzle games celebrities and VIP people. You have to advance each unique puzzle level with 3 stars. Scratch celebrity quiz is like a character guessing game or emoji guessing game. So, get ready to test your character's knowledge now and have loads of amazing fun playing this game. You will come across different people while guessing - celebrities, famous, ancient people, people arround the world, pop singers, pop stars, actors and actress and much more!
The scratch celebrity quiz game is suited for players of all age groups but kids particularly enjoy this game because of the unique and fun character guessing skills that it requires. Match the celebrity with the options that you have available.
The game is perfect for all those who love playing interesting and unique puzzle games. Whether you are a trivia quiz lover or puzzle quiz lover, you will love playing this unique quizzing app for guessing celebrities and famous people

You can use 3 Power-Ups to make the game easier and more fun:
-- Freezer time: Freeze the time 5 seconds every time you use it.
-- Scratch Again: Use it to scratch the screen again.
-- Remove three answers: Click it and three wrong answers will disappear.

**************************
APP FEATURES
**************************
This awesome Puzzle Quiz app is packed with a lot of powerful features -
Interesting and challenging questions 
Multiple choice answers to choose from 
New characters added
 Quiz levels to give you a real-time gaming experience

All set then? scratch celebrity quiz believes in learning with fun and competition. The app is constantly updated with new and latest questionnaire to stay up to date.

*************************
SAY HELLO
*************************
We look forward to hearing from you! Whether it's a suggestion, bug you found, or you want to share one of your quiz experiences. Get in touch with us and we'll be sure to hit you back. If you have liked the app, do rate us on play store and share with your friends.
More Information
Language:

English

French

German

Italian

Polish

Portuguese

Russian

Spanish

More