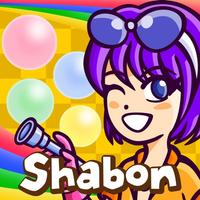 Shabon
$0.99
Shabon Description
"Shabon" is a action game of which tomboysh "Bubble Wizard" named "Shabon"
solves a colorful ball's puzzle.

There are all 56 stages(include 6 stages for exercise).
If you like a puzzle,you feel attainment when you complete on and after 20th stage.

How to play
------------
-If you touch a screen,"Shabon" run to your touch point.
If "Shabon" catch the smily "Baloon" as you control her,
you complete a stage.

-If you tap color buttons positioned at bottom,
color of a small ball moving around "Shabon" changes.

-Some characters obstruct "Shabon" catches "Baloon".


"ColorBall"
------------
It is devided 4 colors ("Red""Blue""Green""Yellow").
"Shabon" can pass it when a color of the small ball equals
a color of which she faces it.

"WhiteBall"
------------
"Shabon" can pass it when it sleeps.
"Shabon" can't pass it when it awakes.

"BlackBall"
------------
"Shabon" can never pass it.

"Hurry"
------------
If "Hurry" and "Shabon" are in the same row or line,
"Hurry" runs to "Shabon" as he is angry.
If "Hurry" touches "Shabon",it is GAMEOVER!
Be careful avoiding "Hurry".

"Hole"
------------
"Hurry" is angry falls it.
Strange to say,it closes after "Hurry" falls it.

Some items help "Shabon" catches "Baloon".

"Rote"
------------
This is a magic stick rotating.
If "Shabon" get it,"ColorBall" rotates 90 degrees to the left.

"Mirror"
------------
This is a wonder mirror flashing.
If "Shabon" get it,Sleeping "WhiteBall" awakes and Awaked "WhiteBall" sleeps.

-If you can't complete the stage,you can retry the stage to press "RETRY" button at right-bottom and hold.

-Be careful,I heard a rumor that "Baloon" is catched flies away on and after 21st stage.


Features
----------------
1)You can see a short tutorial movie before you play game in
each one of 6 stages for exercise,and read a simple manual in this game.
You can easily learn this game rules by it.
This simple movie is made because this game do not have wellknown rule which a
standard type game has.

2)You can play this game comfortably by a older model such as iPodTouch1st,
because this game is simple.

3)This application supports Retina Display.
It's finer for users own iPhone4 or iPodTouch4th above.

4)This game has sounds,but it has no sound when you just listen to an iPod at starting.
Listening your favorite music is never stopped by it.
More Information
Language:

English

Japanese

More