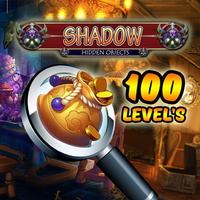 Shadow Secret Hidden Object Games 100 Levels
Free Get
Screenshots for iPhone
More Screenshots for iPad
Shadow Secret Hidden Object Games 100 Levels Description
Puzzle video games owe their origins to brain teasers and puzzles throughout human history. This is one of best traditional "free hidden object games".

Puzzle video games are a genre of video games that emphasize puzzle solving. The types of puzzles can test many problem-solving skills including logic, pattern recognition, sequence solving, and word completion. The player may have limited time or attempts to solve a puzzle, or there may be simple puzzles made difficult by having to complete them in real-time.

This type of hide pictures game contains features to find several objects hidden in the picture. You get multiple adventurous crime solving scenes and you must find all the objects in particular scene case.

Chief Professor Johnson Smith gone missing while roadside tunnel explosion. Detectives thought that reason behind explosion and missed Smith there is Shadow of mysterious civilization or ghosts. The reason behind this attack is not the natural things for sure as per detectives' view.

Play this awesome cool escape mystery search game suitable for kids, girls, boys and adults, almost everyone who likes free, racing and puzzle games! You have to find various things like barbie doll, football, cars and many more mysterious objects to find. You should visit various places like island, gardens, mystery villa, ancient egypt pyramid, vacation mansion, wedding home, scary street, vampire haunted house, animal zoo, new york city mansions, etc and have fun in this addicting games.

Try to find and escape Smith from the mysterious 3D finding game places. Other peoples might be trapped there too! Here is best hidden object game of your taste. Find the tales behind the mystery and resolve the secret. There might be hunters behind this happenings. Create your won great victories and achieve your goal as a detective. Travel hundred continents, find the things in cluttered mansion and discover the truth about Professor past and save his life!

While detecting truth, you might get attacked anytime and you have to travel in horrible ancient rooms! Beware of shadow creatures and resolve the mystery. Become the guardian of the hidden mystery world and reveal difficult hidden object puzzles too.

* Impressive storyline presented with beautiful animation
* Interactive quest solving environment
* Multiple hits available for assistance
* More than 1000 secret room to sail through
* Relaxing gameplay suitable for those who prefer an easier hidden object game
* Solve various fantasy puzzles, mysteries and crimes

These are the games where you must find items from a list that are hidden within a picture. Find hidden pictures from different themes and many of them got different adventure game twist for you to enjoy everytime!

Once you find one group of free hidden object games puzzle, next group of hidden object game puzzles get unlocked for more adventurous puzzle journey in the dream world.

Do you find it fun travelling through places where no one even been? Play your detective role and have unforgettable journey in mystery clutters. Here you will play a great variety of puzzles and after completing all of them you will get to know the truth behind mysterious shadow!

Can you dig up the truth in this shadow find hidden object mystery? Download Shadow Hidden Object full version game today for free and start playing now!
Shadow Secret Hidden Object Games 100 Levels 1.0 Update