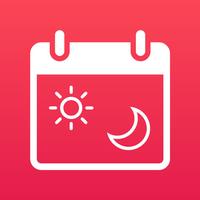 Shifts – Shift Worker Calendar
$4.99
Shifts – Shift Worker Calendar Description
*** 60% OFF FOR A LIMITED TIME ONLY ***

Shifts is the fastest and easiest way to enter and view your work shifts on iPhone.

"A Beautiful Mobile Calendar App Designed For Shift Workers"
– TechCrunch

"An ingenious little app"
– Cult of Mac

"It's great for keeping track of your obligations"
– TIME

"A great way to keep track of your work schedule"
– Lifehacker

"A super clean interface"
– GIZMODO

"I absolutely recommend Shifts to shift workers"
– TUAW

"If you're a shift worker, look no further than Shifts for your scheduling needs"
– iPhone Life

"The app has been polished to perfection"
– Beautiful Pixels

"The app is a breeze to use"
– AppAdvice

Traditional calendar apps aren't ideal for shift workers. You don't necessarily work a traditional Monday to Friday 9-5 job. That makes it hard to keep track of when you're working, especially with early morning and overnight schedules.

Shifts solves this problem with a simple solution. Create your own custom shifts using our attractive icons and color picker, then add them to your calendar with just one tap.

You can add up to 2 shifts per day, or setup a shift rotation and apply it to your Shifts calendar all at once. This makes it easy to enter an entire month – or even year's worth of shifts in less than a minute! See any of your upcoming shifts right from the lock screen.

After you've entered your shifts, you can view them in our beautiful month view calendar, or in a handy list format. You can overlay your personal calendar on top, so you'll know when you have things going on outside of work.

With just a tap you can share your schedule with friends, family, and co-workers – whether they're using Shifts or not.

Built exclusively for iOS 8 and Apple's latest iPhones, Shifts is the modern way to keep track of your work schedule.

********************************************************

CREATE SHIFTS

Add as many shifts as you'd like, and choose your own icon and headerr for each shift type.

ADD TO CALENDAR WITH ONE TAP

Select one of your shifts, then tap each day on the calendar you'd like to add it to. Up to 2 shifts per day.

SHARE YOUR SCHEDULE

Send friends, family, and co-workers your work schedule whether they're using Shifts or not.

VIEW UPCOMING SHIFTS RIGHT IN THE WIDGET

See your schedule without even opening up the app, right from the lock screen, or from inside any other app.

SET UP CUSTOM SHIFT ROTATIONS

Set up shift rotations and Shifts will automatically apply your shifts over any date range you choose – great for repeating schedules (e.g. a 3-week schedule that repeats for 4 months).

********************************************************

ADDITIONAL FEATURES

• View your personal iCloud calendar overlaid on your work schedule
• Add personalized notes to any of your shifts
• Enter your hourly rate and we'll show you an estimate of your monthly earnings
• Add up to 2 different shifts per day
• Reminders for shifts
• Indicate vacation days with the holiday icon, or sick days with the medical icon
• See your schedule on the Calendar or List view
• Swipe between months, or pick any month (just tap the date at the top)

********************************************************

GREAT FOR:

• Nurses
• Emergency workers
• Doctors
• Security guards
• Cleaners
• Retail employees
• Laborers
• Servers, bar tenders, kitchen staff
• Grocers
• Police and Firefighters
• Military
• Surgeons
• News and media reporters
• Paramedics
• Students and part time workers
• Taxi or Uber drivers
• Shipping and warehouse staff
• Pest control workers
• Locksmiths
• Hydro workers
• Protective service
• Food preparations
• Truckers and tow-truck drivers
• Construction workers
• Bus drivers and other transportation workers
• Anyone else who has trouble keeping track of their schedule!

********************************************************

With Shifts, you'll be able to glance at your calendar and immediately know when you're working – and when you're not.
Shifts – Shift Worker Calendar 1.0.1 Update
- Fixed issue where shift types were displayed off screen
- Fixed issue relating to incorrect earning estimates
- Updated German translations
- Misc changes and performance enhancements
- - - - - - - -
Thanks for being patient and supporting us <3
If you have any feature requests, please send them to: feedback@builtbysnowman.com
For support or troubleshooting please contact us at: support@builtbysnowman.com
Thanks :)
– Snowman
PS: if you're enjoying the app it'd be awesome if you could take a moment to rate it in the App Store. It really helps!
More
More Information
Language:

English

French

German

Italian

Spanish

More