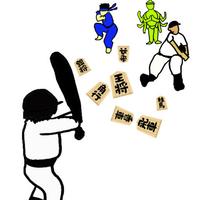 shogiBaseball
Not Available
Removed
from the App Store
shogiBaseball Description
This is the game like baseball.
But the ball used in this game is the Japanese chess piece.

What you have to do is to judge whether you should hit the piece back or overlook it.

If the piece comes to the strike zone, you should tap the "HIT" button.
On the other hand, if the ball trains off the strike course, then you should overlook the piece.
suppose you are going to be hit by the pitch, then you should tap "DOD" button to dodge the ball.
If you hit the piece or overlook it successfully, you can damage the enemy.

But if you are got a strike or hit by a pitch, then you come to get damage.

The important point is that you have to aim at the "王将(King)" piece.
If you hit other pieces by mistake, then you get damage.

Try to keep your life more than 0 and beat 3 enemies.
shogiBaseball 1.0.1 Update
Advertisement is displayed when a player loses.
More