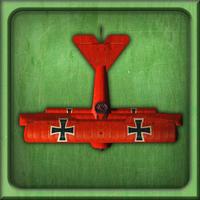 Shoot The Fokkers
Not Available
Removed
from the App Store
Shoot The Fokkers Description
STF is a first person, WW1 shooting game for mobile with cutting edge 3D graphics and high definition sound. STF uses the Gyro input of your mobile device for precision aiming. This means absolutely anyone will be shooting Fokkers within seconds without struggling with cumbersome on-screen controls.

• Intuitive, gyroscope-based shooting
• Play-To-Win Upgrades system
• On-line scoring and Ranking
• Twitter and Facebook connectivity
• Real-world heroes of WW1 info

Playing STF is simplicity in itself, just wield you mobile/tablet in front of your face as though you were firing a real AA gun and touch the screen to fire. You can keep your thumb on the screen indefinitely to keep firing. After you start a round, you will start to see enemy aircraft appear immediately in the distance. These will gradually approach and may swoop down to fire on your position. Your aim is to shoot down as many planes as you can, maximising your score before your armor (the red bar) is depleted and you die. As you shoot down planes a yellow bar will gradually fill up. When it is full, 'Rage Mode' will be activated. This will give you greatly increased firepower for a finite time. The advanced AI used for the enemies means that every round of STF will be different.

As you play successive games of STF, you will accumulate in-game currency (money) which can be used between rounds to purchase upgrades to your gun power, muzzle velocity, firing rate, rage duration and armor. As an added incentive, if you have networking enabled on your device you may submit your scores to the cloud along with a (hopefully clean) message of your choice. Here you will be ranked and placed in a league of players with similar scores.

Tip: Just like in a real life AA gun, the shells in STF have a finite velocity. This means you must lead your target to score hits; you need to shoot ahead of the enemy, where you estimate it will be by the time your shell reaches it. Obviously this will vary with distance, speed of the target and whether you have the muzzle velocity upgrade. Generally though, very distant targets will need much more 'lead' - which is one reason they are far harder to hit. It is therefore much better to concentrate on defending your immediate airspace, rather than getting fixated on trying to down a plane on the distant horizon. As the round progresses, you must also learn to prioritise your targets: concentrating on the more immediate threats.

The Baron and his men are expert pilots and will attempt to avoid your fire with fancy flying. They will also attack frequently and their Fokker Tri - Planes are much faster than other enemies. Occasionally, they may even make kamikaze style suicide runs! This, combined with a high rate of fire for their machine guns, makes them deadly adversaries. So, make like the title of the game and be sure to 'Shoot The Fokkers!' before they shoot you first!

Before each round, we present the player with factual information about one of a handful of notable Victoria Cross (VC) awardees. These men were the heroes of WW1, decorated for bravery (usually) posthumously. You can just hit continue if you want, but we hope that, every now and again, you pause in your ceaseless quest for Fokking perfection and read about the exploits of these amazing individuals.

We plan to release regular updates to the basic game to add more content in terms of enemy types, game modes and other features. The v1.0 release is only the beginning!
Shoot The Fokkers 1.2 Update
Updated for IOS Store
More