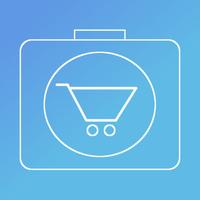 Shopifai
Not Available
Removed
from the App Store
Screenshots for iPhone
More Screenshots for iPad
Shopifai Description
The app features image recognition and can locate nearest stores and product information from images or search words. Note, local product search is currently only available for United States. Make shopping easier by finding nearest locations for certain items.

After submitting a photo from the library, the user could press "Stores" or "Tags". The button "Tags" would list words that the app recognizes to be related to the photo whereas "Stores" would lead to list of stores based on tags associated with the image and the user's location.

If no stores are selected, then tapping on "Map All Stores" will prompt the app to display pinpoints for all the stores on a map based on user's location. Selecting at least one store on the list would enable the user to tap "Map Selected Stores" to get pinpoints of selected stores on a map. Tapping on one of the pinpoints will lead the user to Google Maps URL. The user could then choose to route to the selected location to find stores possessing the chosen product from the image or search bar .

The search bar also could be used to locate nearest stores for the search word.

To search for specific products of a store, left swiping a cell in the store view controller would lead the user to another view with list of products and their information in a store.

The tags table would display a list of words associated with the image. The user can left swipe a tag to navigate to the stores view controller and view the nearest stores for the tag. To navigate to tags view controller requires an image. Using the search bar in stores view controller would in a sense remove the image for the new data.

Note:
1. The application allows users to upload only photos.
2. The application accesses the internet but other users will not able to view the user's personal photos and information. The application will take photos from the users' photo libraries if given permission. There is no social networking involved in which the users could share nor view other users' content.
3. Since users can't share nor view other users' uploaded photos, there would be no flagging mechanism.