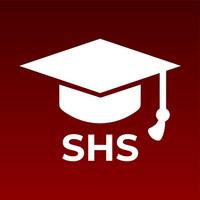 SHS Assistant
Free Get
SHS Assistant Description
SHS Assistant is an app designed to help students in every aspect of their school life. SHS Assistant helps students keep track of homework assignments, special schedules, absent teachers, clubs, and the school calendar. Homework assignments will also automatically sync with Google Classroom an download any assignments posted. SHS Assistant also includes a map of the school that allows students to search for their classrooms as well as a home page that includes all important information for a student on one page. SHS Assistant is made to help all students at SHS keep track of their school life.
SHS Assistant 2.0.1 Update
This version includes many bug fixes and small feature improvements, including:
- Fixes for a bug delaying the app from responding when re-entering the app
- Fixes for U.I. bugs when Version 2 was used on iOS 10
- Improved Snow Day Calculator
- Improved Schedule Page and Home Page functionalities
- Various other Bug Fixes, Performance Enhancements, and Feature Improvements
Enjoy the update!
More