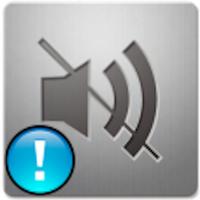 SilentAlert Plus
$4.99
Screenshots for iPhone
More Screenshots for iPad
SilentAlert Plus Description
If you regularly forget your iPhone in silent mode (muted) then this app is for you!
Now with VOIP support!
SilentAlert Plus is an enhanced version of SilentAlert with VOIP support.

SilentAlert Plus alerts you that your phone is muted in 3 cases:

1. When your switch stays silent for specific time.

2. When you leave the location where it was muted.

3. On arrival to specific locations.

- The badge 1 on the SilentAlert Plus icon indicates if your device is muted.
Once your device is set to ring again the badge with the number 1 is cleared.

Inside the app:
--------------

Settings
---------

Email Support:

Click on this icon to send us the console log.

If the application badge contains the number 1 then your phone is muted. (Silent Mode).
When no badge is displayed then your phone is not muted. (Ring mode).

Alert
-----

- Alert Only Once:

If enabled SilentAlert Plus will notify you only once when your device is muted, otherwise you will receive notification every x minutes or x km.

- Vibrate On Alert:

Notification with vibration

- Alert Me Every x Minutes

If your switch is muted and you set the reminder time to 30 minutes (default) then you will be alerted every 30 minutes that your switch is muted (First alert will be between 30-60 minutes). A badge with the total time will be added to the application icon. In case you switch back to ring mode the alert will be cancelled.

- Alert On Move After x km:

You can set alert by distance. You can set any distance in km. When you are on the move and the distance between the location you muted the phone and your current location is more than the distance parameter an alert will be displayed with the time your phone was muted.

Location
---------

You can also add specific locations to alert you if your phone is muted while you enter those locations.

The application uses "Location Services" with minimum power usage. The application runs in the background after closing it. You must enable location services and set them to always if you use location alerts.


If you encounter a problem or you have a question regarding SilentAlert Plus please feel free to contact us at support@novniv.com
We will assist you ASAP!

Battery Disclaimer:
Continued use of GPS running in the background can dramatically decrease battery life.