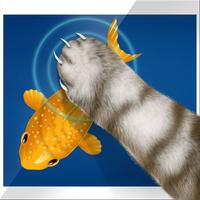 Simulator Cat Fishing
Free Get
Simulator Cat Fishing Description
Cat Simulator Fisherman
Do you like to play on your phone and tablet in the game? Have you ever thought that your favorite pet also wants to play? Give your phone or tablet with the game to his Kitten. You will see how he will catch a fish that swims around the screen. Earning Points. It's a lot of fun for you and your cat. Kittens love to fish, it is very interesting to play in a fisherman. Various fish and locations. He can catch in the lake, in the sea or in the aquarium. Very beautiful graphics and animation. Attention this game joke simulator and it does not bear any harm to people or animals or equipment. Download and play for free and without internet connection.
Thank you for playing with his seals in our games, leave comments, and we will make the game even better for you!