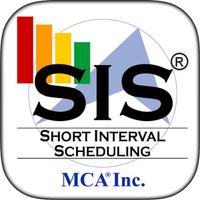 SIS®-Short Interval Scheduling
Free Get
SIS®-Short Interval Scheduling Description
The Construction job site is so fluid that unpredictable obstacles occur almost every day. To stay prepared for these obstacles, look-ahead schedules become increasingly important for field personnel. Using SIS® (Short Internal Scheduling) can make our scheduling more effective than ever by giving us the ability to respond to the work obstacles in a more visible manner.

As a companion for the SIS® 4.0 web application, the SIS® App allows personnel to schedule and score their work directly from their iPhone or iPad in the form of a 3-day look-ahead. When personnel score their schedule, they record their daily work in the form of:

Percent Completion
- This is a measure of how much of the work as originally scheduled was actually completed.

Reason Code
- Obstacles that kept them from completing their scheduled work.

Hours not worked as scheduled (HNWAS)
- The impact of the obstacles in measured in time.

Additional reason code descriptions, notes, and even images can also be added.

The SIS® App synchronizes your data with the SIS® 4.0 database so that your job-site information is always up to date and allows you to resolves conflicts with a single touch.
SIS®-Short Interval Scheduling 1.2.7 Update
Bug fixes and improvements, syncing improvements
More