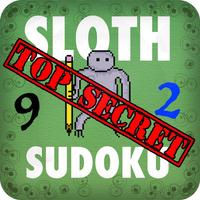 Sloth Sudoku
Not Available
Removed
from the App Store
Screenshots for iPhone
More Screenshots for iPad
Sloth Sudoku Description
Sudoku like you've never played it before.

If you're going to play sudoku as a video game, why play it in a way that tries to recreate the paper and pen version?

Sloth Sudoku is a new kind of sudoku game where you play as a sloth. Instead of putting the numbers directly in the squares, you move the sloth over to the square and have the sloth pencil in the numbers.

The unique challenge is accentuated since you can only see part of the game board at any time and the sloth must be physically present in a square to change the number.

Besides these differences, the game plays exactly like the popular sudoku game. The game supports changing your number choice and writing multiple small numbers in the square as you narrow down your choices.

Don't be a slowpoke, hurry up and download Sloth Sudoku!

How To Play
-Tap the screen to move the sloth to that point.
-Tap and hold, or double tap, to open up the number-entry panel for the square the sloth is currently standing in (as indicated by the box outline). This is also how you start a level from the main menu.
-Tap the numbers to toggle whether they are entered. Use the Pencil option for possible choices and Pen for your final entry.
- Tap the side of the screen to dismiss the number entry box.
- The level will automatically end when the correct solution is entered for all numbers.