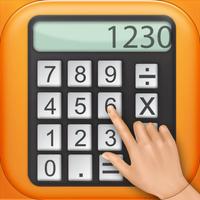 Smart iCalculator – Solve Math Equations Fast
Free Get
Smart iCalculator – Solve Math Equations Fast Description
Make mathematics simple and easy with Smart iCalculator and Solve Math Equations Fast! Get the most beautiful calc themes on the store for free and enjoy in making everyday calculations. You can make basic arithmetic operations and enjoy the standard functions or you can use a more complex scientific mode. This iCalculate app is especially designed for everyone who loves simplicity and functionality.

Smart iCalculator – Solve Math Equations Fast app features:

* Simple, user-friendly interface
* Stylish custom design calc themes
* Pick the look from a bunch of skins to suit your own preference
* Fully functional calculator
* Supports arithmetic operations: addition, subtraction, multiplication, fraction, percentage, quadratic function, root and many more.

Check out intuitive and beautifully designed converter!

Elegant calc interface that won't leave anyone indifferent! When you get bored with the default theme, you can choose from a rich collection of colorful calculator skins. With customizable smart calculator pro for iPhone, finding solution for math problems will be a lot easier and more fun. If you download this reliable and simple iOS calculator for free, you may find your math formula for success. So hurry up and get this iCalc app as soon as possible!
Smart iCalculator – Solve Math Equations Fast 1.0 Update