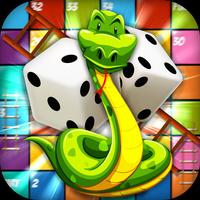 Snake & Ladder Classic Game
Not Available
Removed
from the App Store
Screenshots for iPhone
More Screenshots for iPad
Snake & Ladder Classic Game Description
It's a battle to arrive 100 steps before anyone else through this simple board game with dice game rules!

Snake & Ladder Classic Game: Ludo Board Fun is now free to play...

It all depends on luck that your dice will decide to take you to the top of the ladder or toss you down at the bottom. So, ride on your luck and roll the dice!

Snakes and Ladders is an ancient Indian board game which is played between two or more players on a game board having numbering squares. A number of "ladders" and "snakes" are pictured on the board, each connecting to specific board squares. Your goal is to navigate through game board to reach the top, by rolling dice, from the bottom square to the top square, guided by ladders and snakes pictures respectively.

Ride on your sheer luck this game of simple race contest. This simple board game depicts the morality lessons, where a player's progression up the board represents a life journey supported by the ladders and hurdles faced as snakes. Completely endless fun with snakes and ladders adventurous world!! It is a mix of losses, downs, sorrows. To enjoy with your friends, family and everyone the very essence of human life close matching game on your devices, download the snakes and ladders game. This game has different names around the different parts of the world.

In English people call it Snake and Ladder or Chutes and Ladders. In Gujarati it's Sap Sidi. In Hindi they call it Saanp Seedi, Saanp aur Seedhi or Mokshapat. In Telugu it has names as Vaikunthapali or Paramapada Sopana Patam. In Jain this game is called Gyan
Chauper or Jnan Chauper.

This game is one of the best mobile games available for Snakes and Ladders with its better graphics (boards, players, and dice). The cleaner and neater visual effects are features of each board so choose the board of your interest. Intelligent AI will give you human like challenge but you can also play up to 4 Players on a board. The game is supported by online and offline multiplayers modes. Have unlimited fun with your family and friends while you challenge each other!

Features:
ONLINE MULTIPLAYER
Join hundreds of thousands players online challenging each other to test your luck with dice rolling snake and ladder.

AI VS HUMAN
Don't have internet connection or WIFI? Don't worry! Game AI would make you feel like playing against real human.

LEADERBOARD GAME SERVICES
Play online and rank at the top of the leaderboard by bagging a lot of wins!

REAL TIME DICE ROLLING
Cool real time dice rolling mechanics add the charming beauty to this classic board game.

COINS & REWARDS
It all depends on luck of the dice numbers but that doesn't mean you don't need any strategy. Play with certain moves to score maximum points and win coins & rewards.
Snake & Ladder Classic Game 3.0 Update