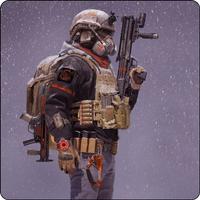 Sniper City Shooting Strike 3D
Not Available
Removed
from the App Store
Screenshots for iPhone
More Screenshots for iPad
Sniper City Shooting Strike 3D Description
Sniper city is the game of FPS American 3D soldier fighting alone game. You are assigned to stop this terror and bring back the peace and success. Hold your guns and go to teach mafia with an incredible attack. You have been given the command of stealth to kill enemy defense. Ready to perform your duty as a good sniper soldier shooter. Your modern shooter can save the city because he is well trained and know perfectly this city tracks. Save city from death assassin, homicide and killing gangsters. Thrilling battle to shoot the underworld army of top hit list dangerous enemies. Get ready to finish crime and shoot every bullet to guns down the criminals.
Fanatic epic battle have started now so pickup your riffle, gun or sniper and fight for the nation survival and swipe away your enemies. In city shooting game FPS play a role of trained land force commander. Your FPS commando is an elite force boy who is sent in a secret mission to destroy the whole army of opponent with single handed. Aim correctly to killing these gangster win gun shooting strike 3d mission. Feel the realistic sound with an amazing shooting perfect bullet sound effect. Modern 3d sniper commander is here with battle enjoyment time to defeat lots of people with his crazy and experienced shooting skills.
If you love the FPS games then this game is superb for you with perfect shooting guns and aiming sniper for clear view. Enemies can be hiding behind obstacle or wondering openly so be aware of their attack. After your first shoot they will be attentive and more aggressive than earlier. Save the innocent from these unfair territory. This game depend on your life how to you fight and still alive in this battlefield. You have all the professional skills to destroy the small enemy battalion. The criminal's destruction is so important because they are not our friend they will destroy the nation and are unsafe for us. Shoot as a sniper expert commando and kill everybody that is unsafe for our nation.
Play this game and be the expert of best shooting game. Just focus and target and aim to shoot and avoid their attack back or dangerous response. Different modes for different city mission. Destroy the enemy power and bravely attack these gangster. You have fully right to enemy counter and fight until last breath to win this battle field.