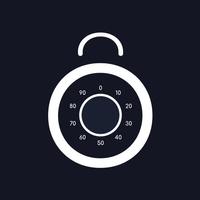 Sock - securely store images
Free Get
Sock - securely store images Description
Description
With the Sock app (a free! No commercials / No ads / No paid version app) you can lock (vault) and manage your private photos and albums with a 5 digit passcode and/or Face-ID and/or Fingerprint. All images are securely stored in the app, only you have access to them. Download now to store your secrets locally, whatever those might be..


Features
● It's FREE! (no commercials / no ads / no paid version)
● Create a 5 digit password
● Supports Face-ID
● Supports Fingerprint scanner
● Import photos from your gallery
● Photos are locally stored on your device for privacy (not in the cloud)
● Photos are securely encrypted, a.k.a. military grade encryption (no clue what that means, the tech guy told me that).
● View photos (press and hold to remove your images)
● When viewing pictures full screen you can zoom in and out (by pinching)
● When viewing full screen you can swipe to switch photos
● Delete photos
● Create albums
● Rename album
● Delete album


FAQ
Q: What if I: delete the app, lose my phone or restore my phone to factory settings, am I still able to get my image(s) back?
A: All your images that are stored within this app (sock) will be stored locally on your mobile drive. If you delete this app those images that are connected to this app can't be restored and will be deleted. This means that if you don't have a back-up and the app has been deleted somehow your images will be lost.

Q: I forgot my password and I can't log in with my Face-ID and/or fingerprint, am I able to get my images back?
A: When you are locked out of your sock app because you forgot your 5 digit password and you're not able to login with your face-id and/or fingerprint, we are not responsible and we are unfortunately not able to restore/retrieve your photos since they are locally stored on your mobile device.

Q: Why is the app free?
A: We don't use any cloud-based services and we like to build tech products. In the future we might add donations but the app will always be free.


Support
We are always interested in getting feedback and comments about our products. If you are having issues with any feature, drop us a quick line below and we will get back to you as quickly as possible to help you resolve your problem. Or send us an email at support@duxilio.com


sock, vault, secure, lock, key, password, protect, gallery, safe, pic, save, private, photo, photos, image, images, photographs, photography, pictures, access, protected, privacy, hide, hidden, locally, stored, slideshow.
Sock - securely store images 1.0 Update