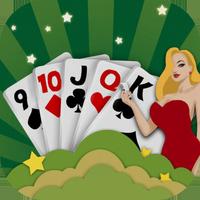 Solitaire Competition
Free Get
Solitaire Competition Description
Our game "Solitaire Competition" is online. This game is a unique card game. Not only is it a classic card game, we have added a new battle mode to the game, making it a more interactive new game.

We not only changed the game mode, but also optimized the overall design style to make the interface more introductory. At the same time, we have optimized the operating mechanism to make it run more smoothly. We have also improved the new combat mechanism to make it easier for you to beat your opponent.

We use the latest matching mechanisms to get you to play against players from all over the world. Our tournament mode is still waiting for you, and after it wins, it will be more fulfilling.

We have also prepared generous rewards, more free offers, more prizes, you will enjoy the joy of victory in the battle, but also have more unexpected gains. Of course, you also have time to fight this battle, we will also have bankruptcy protection, giving you enough opportunities to turn over and it doesn't matter.

If you like our game, please write down or update your comment.
thank you for your support.