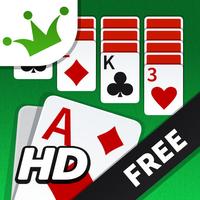 Solitaire Jogatina HD
Free Get
Solitaire Jogatina HD Description
The best Solitaire for iPad!

Download Solitaire by Jogatina right NOW, the best version fully optimized to run smoohtly on your device. It's FREE and perfect for many hours of fun!

Also known as Klondike and Patience!

Play now: Tested and approved by more than 1.5 million people! Solitaire by Jogatina!

*****

- Beautiful design and CLEAR visual: cards and play areas are highly visible.
- 3 animation speeds: Slow, Medium and Fast.
- Simple and INTUITIVE interface
- DYNAMIC Gameplay and faithful to the classic version.
- Choose the color of the table and the stamp of the deck
- Statistics: track your performance and scores

AND MORE:

- Turn 1 or 3 cards
- Autocomplete
- Automatic Save
- Undo button
- Score
- Time

Other benefits:

- Improves alertness
- Develops concentration
- Decreases anxiety
- Stimulates mental speed

*****

Install Free Solitaire Jogatina now on your iPad!

Also called Klondike Solitaire, or Patience, this game is a traditional hobby, loved by millions of players around the world!

Accept the challenge and try to get the best possible score! Finish the game as fast as you can to get more points.
Solitaire Jogatina HD 2.0.5 Update
In this version of the game Solitaire Jogatina:
- Improvements to the app's performance.
- and bug fixes.
What do you think? Let us know at solitaire.ipad@gazeus.com
If you liked this update, rate the app Solitaire! Have a good game!
More