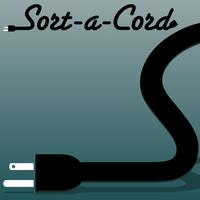 Sort-a-Cord
Not Available
Removed
from the App Store
Sort-a-Cord Description
Code it. Scan it. Find it when you need it.
 
Almost everyone has at least one drawer, box or basket filled with tangled cords, cables and connectors to electronic devices.
 
These accessories accumulate for months, years — even decades — taking up room, creating a mess and serving no purpose. And, when one of these is finally needed, it becomes a time-consuming, frustrating challenge to locate the right one.
 
Matching an accessory to its electronic device becomes almost impossible, and often the device is no longer in use; but you're afraid to discard it because someday it might be needed, and how could it ever be replaced?
 
Sortacord solves this problem.
 
Sortacord is a smart phone app that works with coded stickers to identify and keep track of any device and all its accessories. Sortacord is a cloud-based system that stores and sorts this information, plus model and serial numbers, warranty info, receipts and user's manuals. All the information you need and can never find is now at your fingertips.
 
And Sort-a-Cord works with any sets of things you need to organize and keep track of. You'll find all kinds of uses for it, and it's great for offices, restaurants, data centers, production companies, even touring bands.
 
It's time to sort things out. And now you can, with Sort-a-Cord. Code it, scan it, and find it when you need it.