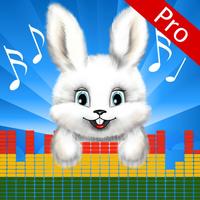 Sound Meter & Recorder for Kids in School
$1.99
Screenshots for iPhone
More Screenshots for iPad
Sound Meter & Recorder for Kids in School Description
Is your kid able to keep voice level accurate?
Do you ever struggle to make your kid speak up?
Is it easy for you to make a group of children silent for a while?

With "Sound Meter & Recorder for Kids" making kids keep voice on accurate level will become fun and competitive. You select the mode (keep sound accurate, be quiet, be loud), set the timer duration, meter sensitivity and start the app. While the time passes the sound meter measures and graphically shows the sound level. Behind the sound meter there is an animal which reacts to the sound level as well.

Features:
o 3 app modes: keep sound accurate, be quiet, be loud
o Sound meter with indicator showing if the sound level is accurate, too low or too high
o Possibility to adjust the sensitivity and dampening of the sound meter – this way you can define the sound level which works the best for you kids
o 4 predefined sound level profiles to be used from individual kids to groups of them
o Timer – you can set any duration from 10 seconds to 1,5 hour or no timer at all.
o 3 background themes
o 3 animal characters
o Possibility to record sound and playback the recording
o Back-up recordings to Dropbox, OneDrive, Box and more
o Share audio recording by Email, Messages, Facebook, Twitter
o The app works with Bluetooth devices (speaker and recorder)

We created this app to help our own kids learn how to better control their voice level. We found it extremely useful and we do hope that you will find it useful too.

If you have any feedback or suggestions for new features please contact us. We would be happy to hear from you to be able to improve this app.