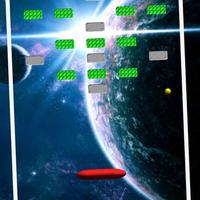 Space Brick Destroyer
$0.99
Space Brick Destroyer Description
Space brick destroyer 2015 is a simple brick-busting game where you bounce the ball to break all the bricks on the screen.

How to play:
To move the paddle, you have to touch the screen. Paddle will follow your finger position. To control the ball, bounce it on the left or the right side of the paddle. You can speed it up or slow it down that way. There are 4 different bricks. Steel bricks cannot be destroyed.

Features:
• 27 brilliantly designed space themed levels to complete
• retro background 8bit music
• easy classic gameplay(touch to move the paddle)
• fun to play (this game offers hours of pure joy)
• realistic physics

If you like our little arcade, please give it a rate and a review.
Space Brick Destroyer 1.3 Update
Smoother gameplay
Minor bug fixes
More