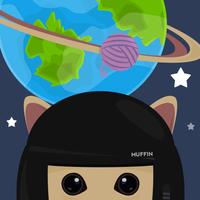 Space Kitten: Defend Catopia
Free Get
Space Kitten: Defend Catopia Description
Destroy as many bombs as possible to help Commander Muffin get to space!

DEFEND CATOPIA, MAKE FELINEGRAD PROUD.

Tap the bombs coming at Commander Muffin's ship and hold as long as possible. Once in space, you will confront bigger and faster bombs! It sounds simple, but it gets hard pretty fast. Find the best technique and challenge your friends to beat your high score.

Catopia, the kitten home planet, is under attack by the K9 Empire and their allies and you need to make sure he can fly up to their ship. Your mission is to protect the Commander from the moment he launches at the Space Command HQ at Felinegrad.

Help the Kitten Federation, one tap at a time.

Version 1.0
-First release!
Space Kitten: Defend Catopia 1.0 Update