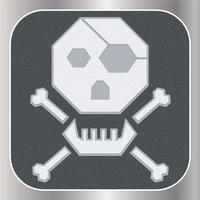 Space Pirates - Grid Wars 2
Free Get
Screenshots for iPhone
More Screenshots for iPad
Space Pirates - Grid Wars 2 Description
Do battle and outwit a bunch of crazy pirates as you battle your way through 60 levels of pirate mayhem. At your disposal is the Stingray Mk IV, a state of the art space ship equipped with side firing lasers. Each turn you take, decide if you want to shoot your lasers or move your ship to out maneuver the enemy pirates. Use ship debris, asteroids, and planets to your advantage since most enemy ships will blindly pursue you without regard for their own safety. A word of caution, watch out for the more advanced enemy ships since they will try to evade other ships while coming after you. The deadliest enemy will even try to shoot you to pieces and does not care who else gets in its crosshairs.
Space Pirates - Grid Wars 2 3.0 Update
- Updated for iOS 11 compatibility.
- Changed the name to Space Pirates 2 because of changes to how some of the ships move.
- Changed the help system from an interactive game scenario to descriptive text for easier reference.
- Player ship now blinks when first appearing on screen, or during any relocation event (wormhole displacement or hit by enemy ship).
- Ship movement indication has been updated as well, the movement arrow now appears beside the ship instead of under the finger.
- Background images, orange (lvl 11-20) and green (lvl 41-50), where adjusted so that the ships and asteroids are easier to see.
- Slightly adjusted game play from the original. Some ships might move a little differently from previous versions. This is due to a bug that existed in the older versions of the game.
- Bug fixes.
More