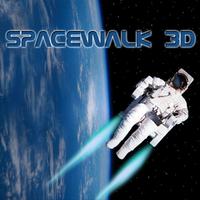 Spacewalk 3D
Free Get
Spacewalk 3D Description
This is the original space walking / EVA simulator game for the iPhone that inspired it's predecessors... SpaceWalk 3D!

Have you ever dreamed about walking in space? Now you can on your iPhone, iPod Touch or iPad.

Spacewalk 3D is a space shuttle EVA (extravehicular activities) simulation and game.

In the simulation you are an astronaut in space orbiting the earth. Your goal is to get back to the space shuttle before you run out of oxygen or fuel while avoiding challenges including meteors and satellites. The physics of the simulation are designed to be as real as possible to floating in space.

Here is what one review had to say about Spacewalk 3D:

"Controls are a reasonably accurate reflection of the Manned Maneuvering Unit systems. If you want more accurate sim, visit the National Museum of the Air Force and play with theirs. You'll stand in line, and it doesn't fit in your pocket!"


You can choose between a first and third person view for navigation. There are 5 levels and three difficulty levels to choose from including easy, medium and hard. No matter how many times you play Spacewalk 3D it will always be different. There are never two games exactly alike.

Spacewalk 3D is also different because you are not "shooting" anything. If you get tired of shooters or you are a parent concerned about violence, this would be a great game for you or your kids.


If you enjoy the background music the theme song called "Spacewalk" is also available seperatly in the iTunes music store.
Spacewalk 3D 1.1 Update
- Accelerometer controls adjusted by popular request.
(Up, down, left and right feel more natural)
- Sensitivity controls tweaked.
More