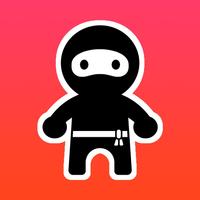 Spear Ninja
$0.99
Spear Ninja Description
Simple: avoid the spears, catch the shurikens!
Collect the shurikens to increase your Ninja Level!
With each level, unlock a new and cooler belt!
Spear Ninja 1.3 Update
- Pause button: click on the pause button in the top write corner to read the instructions and stop the game.
- Ninja Level: now you can see your progress and how good you are on the Ninja Level bar. Your level is determined by your highest score, the better you are, the higher the Ninja Level you will have.
- Ninja Belts: with each Ninja Level you can unlock a new belt. You want the golden belt? Well, then get to catch shurikens!
More