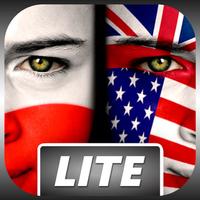 Speeq Angielski|Polski lite
Free Get
Speeq Angielski|Polski lite Description
Sprawdź dlaczego Speeq jest najchętniej pobieraną aplikacją do nauki języka w polskim Appstore!

antyapps - "Mobilna nauka języków na najwyższym poziomie. Unikalną funkcjonalnością są tzw. Kotwice Pamięciowe - współtworzone przez społeczność użytkowników program, krótkie skojarzenia, dzięki którym znacznie szybciej przyswoimy sobie najtrudniejsze słowa i frazy."

MyApple – "Zarówno interfejs jak i sama obsługa aplikacji jest bardzo prosta i przejrzyście zaprojektowana.
Bardzo zaskoczyła genialna wręcz jakość nagrań i dykcja osoby mówiącej."

iPhone Master – "Innowacyjne narzędzie przyspieszające naukę"

MacKozer – "Program bardzo przyjemny i wygodny w obsłudze."

2learn – "Dostęp do słówek mamy w każdym miejscu i czasie - na przystanku autobusowym, a nawet na nudnej lekcji historii."

SPEEQ dostarcza:
● świetnie dobrane słownictwo na 4 poziomach nauki, prawie 10'000 słów i fraz
● zaawansowany algorytm powtórek, zgodny z krzywą zapamiętywania*
● unikalne tryby nauki: Zapamiętywanie, Pisanie, Odtwarzanie
● możliwość tworzenia własnych kolekcji z wybranego słownictwa i nauki kilku osób na jednym urządzeniu
● wszystkie słowa i frazy nagrane przez profesjonalnych lektorów - native speakers

Fakty SPEEQ:
● 4800 kart na 4 poziomach -prawie 10'000 słów i fraz
● aplikacja do nauki języka angielskiego lub polskiego
● prawie 20'000 profesjonalnych nagrań dźwiękowych

Wersja SPEEQ FREE zawiera:
● próbkę poziomu Podstawowy
● próbkę poziomu Średni-niższy
● próbkę poziomu Średni-wyższy
● próbkę poziomu Biznes
● 110 kart z czasownikami nieregularnymi

Razem - ponad 650 słów i fraz tj. ponad 1000 profesjonalnych nagrań dźwiękowych!

W wersji SPEEQ FREE możesz korzystać z wszystkich funkcji aplikacji, takich jak Zapamiętywanie, Pisanie, Odtwarzanie, tworzenie kotwic pamięciowych.

ZAPAMIĘTYWANIE
Unikalny tryb automatyzujący Twoją naukę. Speeq będzie podawał Ci kolejne karty wg. specjalnego algorytmu pilnującego abyś każde nieznane słowo powtórzył odpowiednią ilość razy, w odstępach czasu zgodnych z krzywą zapamiętywania.

PISANIE
Jeśli już pamiętasz, SPEEQ pomoże Ci sprawnie nauczyć się pisowni.

ODTWARZANIE
Ucz się podczas jazdy rowerem, samochodem, relaksu, czy prac domowych. Utrwalaj i przesłuchuj nowy materiał przez słuchawki lub poprzez podłączenie iUrządzenia do zestawu HiFi.

KOTWICE PAMIĘCIOWE
Nauczymy Cię jak zwielokrotnić szybkość zapamiętywanego materiału poprzez Technikę Słów Zastępczych*, Mnemotechnikę* pozwalającą zdziałać cuda w Twojej pamięci dzięki skojarzeniom.


SPEEQ provides:
● superbly selected vocabulary at 4 levels of advancement with almost 10,000 words and phrases
● advanced repetition algorithm based on the forgetting curve*
● unique learning modes: Memorizing , Spelling and Playback
● all words and phrases are recorded by professional native speakers specializing in voice-over

SPEEQ facts:
● 4800 cards at 4 levels - almost 10,000 words and phrases
● an application to learn English and Polish
● the possibility to create your own vocabulary collections and use the same device with your family

SPEEQ FREE version includes:
● 160 cards from all levels
● 110 cards with verbs

SPEEQ FREE version in total - more than 650 words and phrases, i.e. more than 1000 sound recordings!

MEMORIZING
A unique mode which automates the learning process. Speeq will give you successive cards according to a special algorithm.

SPELLING
Once you remember, Speeq will help you with the spelling.

PLAYBACK
Learn while cycling, driving, relaxing or doing housework. Repeat or listen to new material through headphones or by connecting your device to a stereo*

MEMORY ANCHORS
We will teach you how to accelerate the process of remembering with the Keyword Method* and Mnemotechnique* which perform miracles in your memory based on associations.
Speeq Angielski|Polski lite 2.61 Update
Dziękujemy za używanie Speeq!
Pobierz najnowszą wersję i ciesz się przyjemną nauką
Thank you for using Speeq!
Download the newest version and enjoy pleasant learning!
More