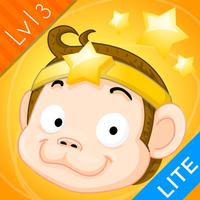 SpellNow Level 3
Free Get
Screenshots for iPhone
More Screenshots for iPad
SpellNow Level 3 Description
SpellNow Level 3 spells F-U-N!
Make spelling child's play with SpellNow! This app transforms the way grade 3 students develop their spelling skills by making it fun. Children are transported to the Stone Ages, full of fun and quirky creatures. Interactive spelling games hold their attention and tap into different learning styles. SpellNow boosts spelling achievement and confidence!

A whole year's worth of work!!
With an entire year's worth of work, there's hours of fun to be had!! Students navigate through 40 spelling lists across four terms. They work from frequently used words with simple spelling patterns, to less frequently used words with tricky spelling patterns. Revision lists ensure students have mastered the mechanics of each spelling skill. And best of all, they are rewarded at each milestone, with special surprises along the way!

Free access to Term 1, List 1 is given, but an in-app purchase is required to access all 40 spelling lists.

Curriculum aligned
Written by experienced teachers, SpellNow Level 3 is aligned to the US, Australian and UK curriculum. It provides students with the essential building blocks of spelling. Each spelling list is organized according to letter-sound patterns and word family groupings. This helps students make the spelling-meaning connection that is required to become a good speller.

Develops spelling and vocabulary skills
SpellNow Level 3 has a bank of over 800 words! Each word is used in a sentence to aid students' understanding and build their vocabulary skills. This dynamic app covers a comprehensive range of spelling skills, such as, contractions, homophones, comparatives and superlatives, dropping 'e' and adding –ing, irregular plurals, inflectional endings (-y and –ly), suffixes (-ian, -y and –en), prefixes (un-, re-, up- and mid-), r controlled vowels (ar, ire, r, or and ur), diphthongs (au, aw, augh, ou, ow and ough), soft g (dge), past tense (adding –d and –ed), irregular past tense, tri-blends (scr, str, thr and squ), final digraphs (-ch and –tch), final sounds (-rge, -lge, -nge and –dge), long vowel (a, e, i, o and u) sound, words ending in long e vowel, silent letters (wr, gn and kn), open and closed syllables, compound words, and Latin, Greek and other language roots. Help your child begin their journey to spelling mastery NOW!
SpellNow Level 3 1.3.0 Update
More Information
Language:

Chinese

Czech

Dutch

English

French

German

Italian

Japanese

Korean

Polish

Portuguese

Russian

Spanish

Swedish

Turkish

More