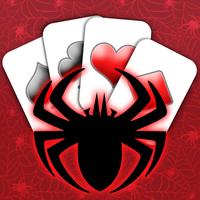 Spider Solitaire: Card Game
Free Get
Screenshots for iPhone
More Screenshots for iPad
Spider Solitaire: Card Game Description
Spider Solitaire is one of the most popular card games played around the world. It is a fun take on classic solitaire. This free patience game gives you the opportunity to play a must have card game!

Spider Solitaire is known as the king of all solitaire or patience games. One must be skilled at manipulating the cards they've been dealt with. Overcome challenges and bad cards. Treasure the good cards you have. Use them wisely!

Solitaire has been around since the dawn of time, but this free version ups the ante by adding sharp, realistic graphics and a superbly designed game board. Download Spider Solitaire today and remember why this challenging card game is considered one of the best in the world.

Spider Solitaire is a solitaire game where the objective is to order all the cards in descending runs from King down to Ace in the same suit. Once a run has been completed, for example King of clubs down to Ace of clubs, then the whole run will be removed from the table. Once the table is completely empty the game has been won.

One Suit Spider Solitaire is the best game to begin learning how to play this popular game, as it only has one suit of cards, which makes it the easiest. Played with 2 decks of cards, the goal is to form stacks with all the cards, King down to Ace.

Spider Solitaire is similar to other types of solitaire (klondike, patience, etc.). The goal of the game is to create 8 stacks of cards (king-through-ace). If all 10 foundations have at least one card, you may place additional cards by clicking on the "stock cards" in the bottom-right corner of the screen.

Spider Solitaire comes in a variety of game modes:Suit Spider Solitaire (as the name implies) is played with only one suit (Spades). Unlike traditional (or Klondike) solitaire, however, you may place any cards of the same suit on top of one another. Just make sure that your cards are in ascending order!

Test your skills and luck in this free Spider Solitaire game.

Download and enjoy the popular spider solitaire game and start playing now!

Spider Solitaire is an addictively fun and enticing card game.

==== Spider Solitaire Features ====

1. Unlimited Smart Hints
2. Beautifully crafted graphics
3. Unlimited Undo Feature
4. Option to play with One, Two or Four suits
5. Classic Style gameplay

It makes us happy to serve you even better!

If you're enjoying the game Spider Solitaire, please take a few seconds to give us a review!

Your feedback is Welcome, please post your Spider Solitaire queries.
Spider Solitaire: Card Game 1.0 Update