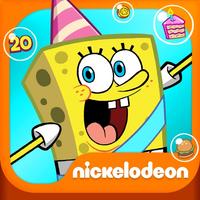 SpongeBob Moves In
Free Get
Screenshots for iPhone
More Screenshots for iPad
SpongeBob Moves In Description
Ranked #1 App in 44 countries! Dive into Day 1 of SpongeBob's life in Bikini Bottom! Move him into his Pineapple house, get a job at the Krusty Krab, and build your very own Bikini Bottom! As your town turns into a thriving undersea city, you'll unlock new characters, buildings, decorations, and areas like Jellyfish Fields. Monthly updates include quests, decorations and buildings!

--------------------
PLEASE NOTE: SpongeBob Moves In charges real money for additional in-app content. You may lock out the ability to purchase in-app content by adjusting your device's settings.
WI-FI: Connect to your nearest Wi-Fi hot spot to download all the awesome SpongeBob content the first time you play the game.
--------------------

UNLOCK EXCLUSIVE, ORIGINAL ANIMATED SHORTS!
* Watch how SpongeBob arrived at Bikini Bottom
* See how Patrick found his rock
* Learn about Mr. Krabs' early days at The Krusty Krab

SEAWORTHY FEATURES
•Build your very own Bikini Bottom!
•Make Bikini Bottom landmarks like Patrick's Rock, SpongeBob's Pineapple, and the Krusty Krab
•Perfect the art of fry cooking at the Krusty Krab to feed your Bottomites and earn new and rare recipes
•Play with Patrick, Squidward, Sandy, and many other familiar faces!
•Perform tons of quests to make your favorite characters happy
•Tom Kenny and other voices from the show make it an authentic SpongeBob experience
•Tons of interactive props, decorations and buildings

___________________________
ADDITIONAL NOTES:

SpongeBob Moves In collects personal user data as well as non-personal user data (including aggregated data) and connects with 3rd party social media applications. User data collection is in accordance with applicable law, such as COPPA. User data may be used, for example, to respond to user requests; enable users to take advantage of certain features and services; personalize content and advertising; and manage and improve Nickelodeon's services. For more information regarding Nickelodeon's use of personal user data, please visit the Nickelodeon Group Privacy Policy below. Our Privacy Policy is in addition to any terms, conditions or policies agreed to between you and Apple, Inc., and Nickelodeon and its affiliated entities are not responsible for Apple's collection or use of your personal user data and information. Additionally, this App may use "local notifications." Local notifications are sent directly from the App to your device (you don't need to be connected to the Internet) and may be used to notify you of new content or events within your App, among other reasons. Use of this app is subject to the Nickelodeon End User License Agreement.

SpongeBob Moves In offers in-app purchases and charges real money for additional in-app content. You may lock out the ability to purchase in-app content by adjusting your device's settings.

You may have set up your Apple ID password to keep you logged on for 15 minutes after an initial in-app purchase. If so, additional purchases won't require a re-entry of the password during this 15 minute interval. This is a function of how you set up your account and not within our control.

SpongeBob Moves In may contain in-app advertising.

For users residing in the EU, SpongeBob Moves In may include the use of persistent identifiers for game management purposes and installation of this app constitutes your permission to such usage of persistent identifiers for all users on your device.

End User License Agreement: http://www.nick.com/nick-eula/
Privacy Policy: http://www.nick.com/privacy-policy/

The End User License Agreement for this app includes arbitration for disputes – see FAQs: http://www.nick.com/faqs/
SpongeBob Moves In 5.00.7 Update
It's the ultimate celebration - SPONGEBOB'S BIRTHDAY!
Can you keep a secret? Patrick, Gary the Snail, and all your Bikini Bottom friends are throwing a surprise birthday bash for SpongeBob! We're decking out the town with all-new party gear, including a brightly-colored new look for SpongeBob's pineapple house!
This summer, check out our new stuff:
- Party costumes for SpongeBob, Patrick, and Squidward
- Special birthday quests with new animations
- More buildings and decorations
- And finally... more Gary!
More