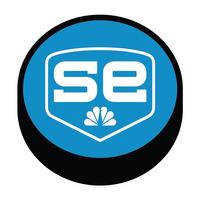 SportsEngine Hockey
Not Available
Removed
from the App Store
SportsEngine Hockey Description
SportsEngine Hockey Scorekeeper is the most intuitive, integrated and interactive way to score a hockey game. Utilizing years of live scoring app experience, Scorekeeper uses visual cues and statistic calculation to provide detailed play-by-play tracking for fans, published to the web right from the iPad app. Scorekeeper makes game scoring easy and fun for scorers of all ages.

Features:

Connectivity & Integration
• Works with an internet connection or in offline mode
• Web sync game stats from offline mode when you have an internet connection
• Real time stats integration with game pages on your SportsEngine website
• SportsEngine integration to sync teams, games and rosters

Settings
• Adjust warm up, play period, intermission and overtime lengths
• Configure minor and major penalty durations
• Toggle between Stop Time and Run Time
• Enable shot tracking, play location tracking and auto-edit play details

Game Set-Up & Scoring
• Set up teams, games and rosters within minutes to start scoring games
• Add your home team, and quickly search and add away teams that are part of the SportsEngine network
• Auto generate rosters for teams who are not part of the SportsEngine network
• Check-in players who are on the bench, ready to play
• Detailed game and player stats, including scoring and penalty lists
• Comprehensive list of infraction and penalty types to precisely track off-ice, on-ice, start, end and remaining time of penalties
• Pre-loaded game formats from USA Hockey & International Ice Hockey Federation
• Interactive ice view screen to place location markers of important shots, goals and penalties
• Add officials & venue information

Multiple Scoring Modes
• Scoreboard Mode - Used to score pick up games, games where rosters are unknown, or to practice using the app
• Game Mode - Used for live games where full rosters, infractions and score details are utilized

Download the app now!
SportsEngine Hockey 1.5.15 Update
Enhancements and bug fixes.
More