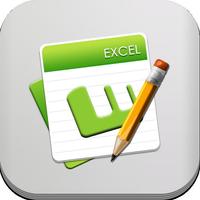 SpreadSheet Touch - for Microsoft Office Excel Edition
$5.99
Screenshots for iPhone
More Screenshots for iPad
SpreadSheet Touch - for Microsoft Office Excel Edition Description
+++++ Create and edit Microsoft Excel® (.xls and .xlsx) on your iPad/iPhone.

SpreadSheet Touch allows you to manage Excel and Microsoft Office Spreadsheet on your iPad. You can view, create and edit Microsoft Office 2007 and 2010 spreadsheet (including xls and xlsx format).

You can use this as a regular spreadsheet program or use it as a powerful calculator by entering complex formulas in cell.

You can edit files in cloud storage or transfer existing .xls or .xlsx from your PC to the iPad/iPhone via Wifi Transfer or USB Sync.

SpreadSheet Touch supports the following in editing spreadsheet files

+ View, create and edit Microsoft Word 2007-2010 spreadsheets (.xls & .xlsx)
+ Transfer files using Wifi.
+ Support Date & Time formulas:
YEARFRAC, YEAR, WORKDAY, WEEKNUM_ADD, WEEKNUM, WEEKDAY, TODAY, TIMEVALUE, TIME, SECOND, NOW, NETWORKDAYS, MONTH, MINUTE, HOUR, EOMONTH, EDATE, EASTERSUNDAY, DAYS360, DAYS, DAY, DATEVALUE, DATE and more...
+ Support Finance formulas:
SYD, RECEIVED, PV, ISPMT, IRR, EFFECTIVE, EFFECT_ADD, DURATION_ADD, DISC, DDB, DB, AMORLINC and many others
+ Support Logical Conditionals:
AND, OR, FALSE, IF, NOT, TRUE
+ Support Mathematical Functions:
CONVERT, FLOOR, SIGN, MROUND, COUNTBLANK, ACOS, ACOSH, SQRT, ACOT, ACOTH, ASIN, ASINH, ATAN, ATANH, COS, COSH, COT, SQRTPL, COTH, DEGREES, EXP, FACT, INT, EVEN, GCD, LOG, LOG10, CEILING and many more!
+ Support Statistical Functions:
RSQ, INTERCEPT, CHITEST, CHISQDIST, CHIDIST, BINOMDIST, BETADIST, GAUSS, GAMMADIST, FISHERINV, FINV and many more...
+ Charting support.
SpreadSheet Touch - for Microsoft Office Excel Edition 1.0 Update
More Information
Language:

Chinese

English

French

German

Italian

Japanese

Korean

Portuguese

Spanish

More