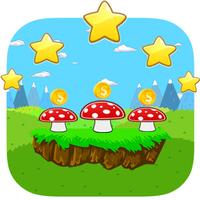 Square Head Runers
Not Available
Removed
from the App Store
Screenshots for iPhone
More Screenshots for iPad
Square Head Runers Description
Square Head Runners is an action packed adventure game with tons of challenging obstacles through magical worlds. Grab as much coins as you can to buy super powers. While on your adventure please avoid the floating wizards and man-eating plants, landmines and what ever you do please do not fall in the abyss of no return. Good new, if you did get hit by a landmine, snagged by the wizard, eaten by the man-eating plant, or fall into the abyss of no return and game over, guess what, you get to pick up where you left off when you start over. The coins you get during the game can be used to buy Super Powers to help you through the game. Are you ready to play? Its Adventure Time, download The Runner Games today!

FEATURES

• Fifteen characters to choose from, and more to come! You can also buy characters with the coins you get in the game

• If you avoid the floating wizards, man eating plants, but fall into the abyss of no return! Don't worry your game will be saved so you can pick up where you left off.

• Each world has 5 levels and an infinity mode so you can run endlessly. Can you reach world 6? I doubt it :p.

• Each star in the level is 100 points; make sure to collect them to get the best score possible!

• You can buy characters with coins that you get while on your adventure in all levels!

• Win super powers at the end of all levels if you're lucky!, otherwise you can buy super power at the power store!

• Well we can't tell you everything! Its adventure time!, download Adventure Runners and see much more cool Features.

SUPER POWERS

• COIN MAGNETITE
Lets you collect all the coin that is near you.

• PROTECTOR SHIELD
Protector Shield protects you from things that can kill you, like the man-eating plants

• COIN DUPLICATOR
Lets you double all the coins you get in the game.

• WINGED HELMET
The winged helmet lets you fly!

• GREAT CHANGE
Lets you convert traps and landmines and other things that can kill you into coins!
Square Head Runers 1.05 Update