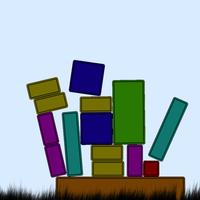 StackAStack
Free Get
StackAStack Description
StackAStack as high as you can, before gravity causes your tower to fall! StackAStack employs your devices gravity to recreate the challenge we all had as kids - stacking blocks before they fall down.

Key Features:
- GameCenter Integration: Compete with your friends and StackAStack larger than theirs.
- Gravity Engine: Fight against your own fingers, as well as your device's gravity to keep your Stack from falling over.
- Power Ups: Implore the use of power ups to StackAStack much larger than you would think possible.
• Platform Growth: Make the platform for placing blocks twice the normal size, so you can make a wider Stack!
• Light-Weight: Make the next block you place as light as a feather!
• Heavy-Weight: Make the next block you place as heavy as a ton of bricks!
• Block Delete: The next block you tap is removed from existence!
StackAStack 1.0.2 Update
What's New in Version 1.0.2?
- Firebase support has been removed and replaced with GameCenter support! Now, you can see how good your friends are at StackAStack-ing, too.
- Ads are much easier on system resources.
More