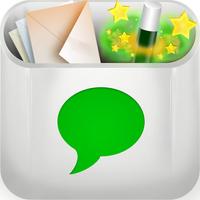 StampMaker
Free Get
StampMaker Description
Stamp maker an app that allows you to easily post and images to the original stamp LINE app.

※ We will not play LINE app app is not installed.
If you have not installed, please use since installation.


■■■■■The main features■■■■■
• Select (chlette stamp) stamp that is provided
Post to LINE
• You can create a post to the LINE (image) on your own stamp,
You can (stamp of everybody) save and share (save to list).
Stamp that was posted to the "Stamp" Everybody can be used by anyone
, Get everyone to use their own stamp.
And post-processing the images from the camera to select photo album


【everyone's stamp】
By a registered member, made his own stamp with everyone
You can share.
Stamp created by other people If you are happy, just tap the stamp
You can easily post to LINE.
In addition, you can also get used to various people even made his own stamp.
You can see the stamp and stamp My newest, by popularity,
I can use at any time if there is a stamp to my lovely.

※ Facebbok account you will need to Register or Twitter.


■■■■■How to use■■■■■
If you are using the ==== ==== Chalet stamp
1) Select the stamp Chalet
Tap the stamp has transitioned to 2 screens) stamp
Stamp to post 3) LINE

==== ==== If you use to create a stamp
1) Select the original stamp
Select frame type No + (4 2) frame)
I draw the line and traced a finger to select the thickness of 3) pen, the color of the pen
From the button in the upper right-hand corner 4) stamp has been completed
Select the "Registration" to stamp "Everyone to the" list "sent to the LINE"
I post pictures, store and share.
More Information
Language:

Catalan

Chinese

Czech

Danish

Dutch

English

Finnish

French

German

Hebrew

Hungarian

Italian

Japanese

Korean

Norwegian Bokmål

Polish

Portuguese

Russian

Slovak

Spanish

Swedish

More