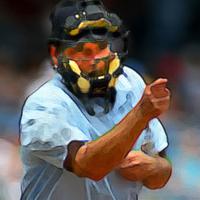 steeRIKE! Pitch Counter
Free Get
steeRIKE! Pitch Counter Description
PLEASE NOTE: I can no longer update this app (the original code is lost). Please download steeRIKE2 Pitch Counter if there is a problem with this app. You can find it here:
https://itunes.apple.com/us/app/steerike2-pitch-counter/id383065824?mt=8

I know this app no longer works with iOS 6, so please download steeRIKE2, which works fine with iOS 6.

Thanks!

See steeRIKE2! Pitch Counter if you would like to track stats for individual pitchers and email the stats to yourself: http://itunes.apple.com/us/app/steerike2-pitch-counter/id383065824?mt=8

steeRIKE! Pitch Count is a simple baseball pitch counter developed for Little League and school team parents, and anyone who enjoys following baseball and statistics.
The 'New Batter' button allows you to reset the batter's pitch count when a new batter comes to the plate, so you can track the individual ball/strike pitch counts in addition to the pitcher's total count.
The 'New Pitcher' button resets all the stats so you can start a new pitcher. Since a new pitcher can arrive with the same batter, the 'New Batter' button still has to be pressed to reset the batter.
A dot--"•"--appears when more than two strikes are on the batter, to indicate a full strike count on the batter while sitll allowing further pitch counting.
Sound feedback (with a toggle, plus vibration feature) is provided for strike, ball and undo, so you never have to take your eyes off the game to keep track of scores!
steeRIKE! Pitch Counter 1.1.1 Update
Rotates for upside down orientation on both iPad and iPhone.
Minor bug fixes.
More