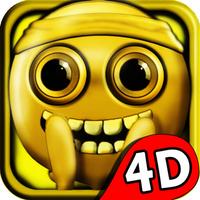 Stickman Run 4D
Free Get
Screenshots for iPhone
More Screenshots for iPad
Stickman Run 4D Description
Join Stickman in one of the most exciting run adventures ever.
Stickman is a Ninja character that has been sucked in by a mysterious vortex while meditating at a temple. At the end of its journey he had to realize that, he ended up in another dimension (parallel world).
Since the day he has been sucked into the tornado his only thought is to try and get home as fast as possible.
The problem is that he has to find another inter dimensional portal, that will hopefully teleport him back in his dimension.
Along his path he will encounter countless obstacles, pitfalls and monsters that will require all of his ninja skills to be overcome.
Help Stickman to get through all his battles and reach the next portal that could bring him one step closer to his home.
Run on al 4 sides of the tunnel by skipping sideways quickly to avoid obstacles you cannot jump over.
Use the sword to cut down the clumsy monsters that you will encounter on your path and all the paper obstacles that obstruct your way. Also collect special weapons that can help you accomplish your mission.

3, 2, 1 go! Start a unique running adventure game with the most skillful Stickman ever seen.

How to play:
- To Jump swipe up, to jump higher swipe twice quickly.
- To move, swipe to the left or to the right.
- To get onto another floor, swipe to the left or to the right when your are running along the wall.
- To use the blade or any other weapon tap on the screen.

Features:

*** Original 3D-run function combines jumping, turning and cutting / shooting.
*** Colorful graphics and smooth animations
*** The coolest ninja Stickman ever to play with!
*** Many different levels to conquer
*** Special abilities and weapons:
- Ink: Makes you invincible and faster for 5 seconds (The only thing you have to remember is to jump if you encounter precipices)
- Shotgun: To blast away all the paper obstacles on your path (The bullet destroys more objects with one shot)
- Flame thrower: Burns al the paper obstacles and enemies down (can eliminate more things with one shot).

Advice: Don't be caught from the glue as it will slow you down a lot for some seconds

Rush through the tunnel and fight to save Stickman's life and bring him back to his beloved homeland!
One of the most challenging and funny running games ever!
Stickman Run 4D 1.0 Update