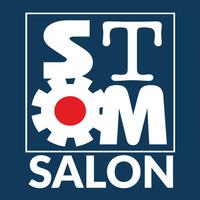 STOM Salon Targi Kielce
Free Get
STOM Salon Targi Kielce Description
XI Targi Obróbki Metali, Obrabiarek i Narzędzi STOM-TOOL

"Przemysłowa wiosna" w twoim smartfonie! Dla wszystkich imprez z cyklu Targów Obróbki Metali przygotowaliśmy aplikację dla wystawców i zwiedzających. Wszystkie wydarzenia w jednym miejscu – nie zgub się w olbrzymiej ofercie Targów Kielce i odwiedź wszystkie interesujące Cię kategorie:
STOM-BLECH & CUTTING
STOM-TOOL
STOM-LASER
STOM-ROBOTICS
CONTROL-STOM
SPAWALNICTWO
EXPO-SURFACE
PNEUMATICON
WIRTOPROCESY
DNI DRUKU 3D
TEiA

Informacje o targach STOM dadzą Ci dostęp do najciekawszych newsów i wiedzy o wydarzeniu z poziomu aplikacji w urządzeniu mobilnym, wygodnie i zawsze pod ręką.

Dzięki bazie wystawców otrzymasz dokładne informacje o produktach i usługach firmy oraz zaskoczysz potencjalnego kontrahenta wiedzą o jego działalności.

Skaner kodów QR znajdujących się na wszystkich stoiskach pozwala na łatwe odnalezienie informacji, bez potrzeby wyszukiwania firmy po nazwie.

Interaktywna mapa stoisk pozwoli Ci łatwo odnaleźć się na jednej z najciekawszych wystaw w branży obróbki metali i trafić bezpośrednio do interesujących Cię wystawców.

Za pomocą aplikacji wyszukasz i dodasz ekspozytorów i produkty do obserwowanych żeby wrócić do nich w dogodnym momencie i nie zgubić żadnego wartościowego kontaktu.

Po wydarzeniu będziesz mógł wrócić do interesujących stoisk lub odkryć nowe dzięki wirtualnemu spacerowi i zdjęciom 360.

Cykl imprez organizowanych pod wspólnym hasłem "Przemysłowa Wiosna w Targach Kielce" z roku na rok, cieszy się coraz większym zainteresowaniem. Jedną z najważniejszych imprez cyklu są Targi Obróbki Metali, Obrabiarek i Narzędzi STOM-TOOL. "Przemysłowa Wiosna" zawita do Targów Kielce 10 kwietnia i potrwa do 12 kwietnia 2018 roku.
STOM Salon Targi Kielce 1.1 Update
Change of clauses content in registration view in accordance with GDPR guidelines.
More
More Information
Language:

English

Polish

More