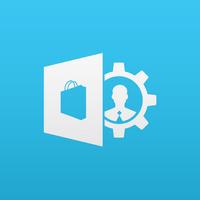 Store Admin for OpenCart Shop
Not Available
Removed
from the App Store
Screenshots for iPhone
More Screenshots for iPad
Store Admin for OpenCart Shop Description
With the Administrator for OpenCart you can manage your online store via a mobile device and register in the AlphaStore as well as connect mobile users up to your site through the AlphaStore application.

Video Guide: www.youtube.com/watch?v=iE5hD3mtZ9A

Mobile Administrator for OpenCart includes:

- Administrative control panel of e-Shop and Notifications service of new orders' and users' registrations (pic. 1,2,3)
- Messenger, Notifications and Message delivery systems, Newsletter system, Orders and Delivery confirmation system (pic. 4)
- Administrative control panel of subscription and settings parameters in the AlphaStore (pic. 5)

With Administrator for OpenCart you can:
- Use the messaging system to communicate with a store's clients via the built-in Messenger
- Manage Shop Mode
- Manage Categories, Products, Orders
- Get push notification of New Orders and New Users
- Briefly view all Orders
- View in detail each Order
- Have short cut for Call/E-Mail/Messenger
- View full Reports and Statistics

AlphaStore
Registration in AlphaStore allows your customers to use the AlphaStore application for free to access your Store or Goods and Products delivery service.
Now you don't need to create your own application for your Store and have considerable expenses.
You also get an opportunity to register several stores based on different platforms using only a single mobile application.

Subscription for AlphaStore
The AlphaStore service is available for subscription. After you registered in AlphaStore, you
get an access to the service for a thirty-day period. Further, your subscription should be paid for through In-App.

The subscription includes:

- Your Shop's Link replacement to the Catalogue
- The Messaging system between clients and the Administrator
- The using of the AlphaStore for OpenCart application by Customers

The subscription is available for 1,3,6 months and controlled the "My Preferences" section (pic. 5).

PUSH service for your store
After installing Administrator for OpenCart you have an opportunity to switch on the mode of Push notifications for your store.

Push notifications work in two modes:
- Alert you on the registrations of new users and new orders
- Monitor 24\7\365 the functionality of your server on which you installed your store

Every time when a new user makes registration and creates a new order, you get Push notifications that are as follows: "2 new order (s) have been created, 4 new user (s) have been registered".
This service eliminates constant monitoring of your store.
The verifying of your server's functionality, on which your store is installed, is made in 24\7\365 mode and indicates the availability of your store to other users.
The verifying of your server's functionality is automatically activated when you turn on Push notifications. After enabling this mode you receive "Your push service has been activated" notification, and the Push Notification Server turns on the mode of verifying your server's functionality.
If your server is not available for reasons of overload or lack of access to the internet within 6 hours, you receive "Your store is not accessible. Push service is stopped" notification.
This will allow you to quickly resolve the problem of unavailability of the server on which your store is installed.

Messaging service for your store
To communicate between the Customer and the Administrator, the built-in two-level messaging system with confirmation and the division of rights to transmit messages is used.
Messages are delivered in the system via the built-in messaging system and can be duplicated with PUSH notifications. The system includes a message confirmation mode of delivered messages.
When the application is not active, the Customer and the Administrator can get PUSH notifications about new messages or message delivery to the recipient.
To get in touch with the Administrator your customers need to use the AlphaStore application.
Store Admin for OpenCart Shop 141 Update
- Bugs fixes
- Interface improvement
- Expanded functionality
- New iOS version support
More
More Information
Language:

Afrikaans

Albanian

Arabic

Armenian

Azerbaijani

Bangla

Breton

Bulgarian

Catalan

Chinese

Croatian

Czech

Danish

Dutch

English

Esperanto

Estonian

Finnish

French

Galician

Georgian

German

Greek

Hebrew

Hungarian

Indonesian

Irish

Italian

Japanese

Korean

Lao

Latvian

Lithuanian

Macedonian

Malay

Malayalam

Norwegian

Norwegian Nynorsk

Persian

Polish

Portuguese

Romanian

Russian

Serbian

Serbo-Croatian

Sinhala

Slovak

Spanish

Swedish

Thai

Turkish

Twi

Ukrainian

Urdu

Uyghur

More