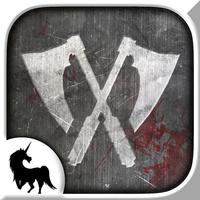 Striker Arena: Axe Grinder
Not Available
Removed
from the App Store
Striker Arena: Axe Grinder Description
SMASH YOUR OPPONENTS TO PIECES TO PLEASE THE VIKING GODS!

As a Viking, haven't you always felt this natural axe-throwing ability flowing inside of you? It is now time to use this gift. Your Viking team dominated the Striker Arena tournament and the Gladiators who dared challenge you are now facing the ultimate punishment. Firmly tied to a wooden wheel, Gladiators can only hope your axe-throwing dexterity does not outdo your soccer skills.
They have never been so wrong!

Entirely free, no in-app purchases whatsoever and unlimited play time!


= DESCRIPTION =
Striker Arena: Axe Grinder is a fast-paced arcade game where you get to punish the opponent team that lost against you in the Striker Arena tournament. Achieve the highest score by spilling their blood, multiplying combos, dismembering them and unleashing your frenzy in a flurry of axes.

= STORY =
On a distant planet, ancient tribes have settled their wars through an old brutal discipline, Soccer of the Gods. Once every ten years, tribes gather in the Striker Arena tournament to battle each other under the authority of their Emperor. Each tribe enlists the bravest and fiercest of their kin to fight for glory. These few are known as the Strikers. Their spilt blood and sweat in the arena feeds the Emperor's ever growing lust for true transcendence.
Striker Arena: Axe Grinder 1.0.0 Update