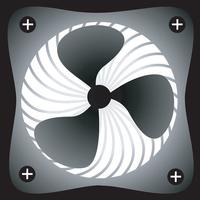 Strobe tachometer (RPM meter)
Free Get
Strobe tachometer (RPM meter) Description
STROBE TACHOMETER
When the flicker frequency of light coincides with the speed of any object, such as a fan, the rotating fan may appear to be stationary. Changing the frequency of the flicker of light may help detect the rotation speed.

You may easily use the flicker frequency control buttons to quickly assign the flicker frequency with an accuracy of 0.0001 Hz (0.01 RPM):

• Up to 1000 Hz (60 000 RPM) for a connected flashlight (see the video on YouTube: https://youtu.be/iq6Xiums05o).
• Up to 100 Hz (6000 RPM) for the iPhone flashlight (iOS < 9).
• Up to 40 Hz (2500 RPM) for the iPhone flashlight (iOS 9+).

IF THE SPEED IS MORE THAN UPPER LIMIT, YOU MAY STILL DETERMINE THE SPEED BY FIRST MAKING MEASUREMENTS WITH A LOWER FLICKER FREQUENCY AND THEN MAKING A SIMPLE CALCULATION (AS EXPLAINED IN THE APPENDIX).

To change the frequency, you should simply press and hold the button. The flicker frequency can be displayed either in Hz or RPM.

The image you see will be sharper in lower external light.

After a long period of usage, in case of overheating, the iPhone flashlight turns off automatically.

LASER TACHOMETER
• Measurement range from 0.3 Hz (18 RPM) to 1000 Hz (60 000 RPM).
• Step 0.01-0.0001 Hz (1-0.01 RPM).
• Update time 1 sec.
• 5 mW laser power required.

MAGNETIC TACHOMETER
This tachometer operates by measuring the magnetic field from a spinning magnet. The magnetic field is measured by the iPhone's magnetometer. The magnetic tachometer is best suited for measuring low rotation speeds (from 6 revolutions per minute). It can also be used for measuring medium rotation speeds (up to 2,700 RPM), but at such speeds there is a risk of spontaneous tearing away of the magnet and strong vibration due to center-of-gravity shift.

• Measurement range from 0.1 Hz (6 RPM) to 45 Hz (2,700 RPM).
• Step 0.2-2 %.
• Update time 2-5 sec.
Strobe tachometer (RPM meter) 3.5.2 Update
More Information
Language:

English

German

Japanese

Russian

More