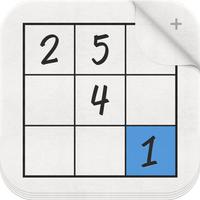 Sudo – simple, elegant Sudoku
Free Get
Sudo – simple, elegant Sudoku Description
Sudo is the most simple and elegant Sudoku application for iPhone and iPod touch, and packs a punch when it comes to features and difficulty!

•••• Sudo is now free! It's time for everyone to learn and enjoy Sudoku at its best. ••••

Main Features:

- Full-screen, high-contrast puzzles
- Thousands of puzzles with varied difficulty
- Step-by-step guide teaches you new techniques
- Gestures and double-taps improve gameplay
- Supports iPhone 5 screen resolution
- Add pencil marks (notes) to keep track of possible answers in each square
- Pencil marks are automatically cleared as you enter answers
- Highlighting helps you discover patterns
- Choose to show all, none, or just obvious errors
- Automatically saves your game

DESIGNED FOR SMALL SCREENS

Sudo puts Sudoku front and center. The puzzle fills the entire screen and the numbers are large enough to see from a distance. The text is crystal clear and looks especially crisp on retina displays. During gameplay, the puzzle board is never covered by menus or gimmicky animations.

GESTURES AND TAPS IMPROVE GAMEPLAY

Sudo uses gestures and taps to cut down on visual clutter and speed up gameplay. To start a new puzzle, simply swipe to turn the page. If there's only one possibility left for a square, double-tap it to set it as the answer. When a number is completed on the board, its button is disabled to prevent accidental taps.

THOUSANDS OF PUZZLES

Sudo comes with a nearly unlimited supply of Sudoku puzzles and five different difficulty levels. No need to buy new puzzle packs – it's all included!

INTELLIGENT DIFFICULTY RATINGS

Computers are good at solving Sudoku puzzles but bad at determining their true difficulty. Sudo evaluates each puzzle as a human would and divides them into five difficulties ranging from Easy to Insane. Easy puzzles are great for first-timers, and Insane puzzles are amongst the hardest in the world.

IN-GAME GUIDE TEACHES YOU NEW TECHNIQUES

Use the built-in guide to improve your game or to get out of a bind. If you get stuck in the middle of a puzzle, Sudo will clear your mistakes or walk you through your next move step by step. The hints system has been designed from the ground up to help teach players how to get better, not just give them answers. Learn techniques such as X-Wing, Finned Jellyfish, Avoidable Rectangles, and many more.