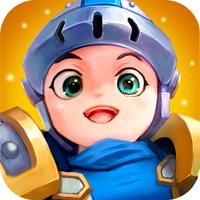 Summoners & Puzzles
Not Available
Removed
from the App Store
Screenshots for iPhone
More Screenshots for iPad
Summoners & Puzzles Description
It blends the simplicity of classic puzzle mechanics with the strategic depth of RPG, a great choice for anyone who enjoys Puzzle, RPG or Adventure games.

Fight your way through an exciting adventure and unlock the chapters. Summon the powerful creatures and warriors fight for you, build your own ultimate deck from hundreds of collectable cards, power up your champions with rare cool items, unlock the stories and events, complete bounty quests, collect pieces for the hidden treasures and many many more.

Join the millions of real players in this addictive unique game and become the next champion in adventure mode or dominate the worldwide leaderboard with your match 3 skills!
Summoners & Puzzles 1.6 Update
New Feature:
1.Summoners'Chess: Featured PVE Auto Chess.
2.Return events and rewards for players who have not logged in for several days.
3.New Event: Adventure King
4.Opening free chest may activate lucky chest, which can be opened by recharge or diamonds.
5.Monster Skin can be exchanged by score that obtained in Summoners'Chess.
Optimization:
1.New main interface:
1)Nine function buttons can be exchanged arbitrarily.
2)Character in the main interface can be changed.
3)Changed the entrance of Event and Welfare.
4)Added the gyroscopic effect to the background.
2.Optimized the loading interface.
3.Removed the CD of opening chest. Chest will be opened automatically after clearing or plundering stage, if your network is working well.
4.Removed Speed-up ticket and Speed-up shards.
5.Users who have Speed-up ticket or Locksmith will obtained the diamonds as compensation.
1)1 Speed-up Ticket = 10 diamonds
2)1 Speed-up Ticket Shard = 1 diamond
3)2 Chest slots = 800 diamonds, 3 Chest slots = 3600 diamonds, 4 Chest slots = 9400 diamonds.
6.Optimized Beginner Initial Fighting and Beginner Guidance.
7.Optimized several interfaces.
8.Optimized hero style and the original style will be preserved as classical style.
9.Optimized some monsters' style and the original style will be preserved as classical style.
10.Added introduction button to the line-up interface.
11.Added the red dot as a tip for Support Game when awards available.
More