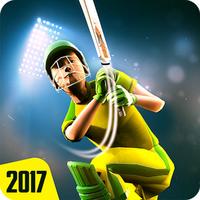 Super Cricket Championship
Free Get
Super Cricket Championship Description
Welcome to the Super Cricket Championship. Here you are in the real cricket world of t20 ,where you can just puzzle the opponent bowler with your great batting skills. Cricket is all about odi and test match in the past but now odi and test match is the things of past. People love to play and watch the t20 cricket.
Many cricket leagues are going on around the world that involves .All this league cricket develop a craze to play cricket in our youth. So here is the best cricket game to play the cricket and become the best player of the 2017 games. Cricket worldcup is also moving to the concept of t20 cricket. This real cricket game will help you to play cricket and become the best cricketer to give the best score 2017. You will fall in love with this free cricket game because this cricket game will give you the best experience of the 3d cricket games.
People love to play the games 2017 because they are found of playing cricket game 2017. This is the cricket season so have a go at this best cricket game and play the horn for fun. You can build your cricket career through these cricket champions games and can step into the cricket multiplayer game further. In India youth has a craze to play the cricket games because they like the horn and this indulge them into the Cricket Craze. Enjoy the cricket championship at your home.
Download Play Cricket 2017 to show your batting and spinner skills against the best bowling side. Hit sixes and fours to go faster on the scorecard. This is the cricket manager that will develop your cricket skills to win the cricket match game. Cricket games are the best in the free cricket game category so play this real cricket of the 20/20 overs. All the best cricket apps are introducing the concept of limited over games just to entertain the audience. Cricket games are also very famous in the cricket buddies so always keep updated with best cricket news. Real cricket championship for all cricket fans.
Cricket new games are involving people to play cricket on their favorite grounds by sitting into their couch or bed. All the cricket playing nations that includes PAKISTAN, INDIA, AUSTRALIA, NEWZELAND, ENGLAND, SOUTH AFRICA, BANGLADESH, WEST INDIES are getting their teams ready for the cricket worldcup of t20 cricket.A global cricket championship of 2017.

Game play of Play Cricket 2017 is very easy and user friendly. You just have to concentrate on the upcoming delivery and decide quickly where you want to hit the ball. Swipe the screen to hit the shot and keep scoring to go far in these best IPL games and best cricket games.

Don't forget to give your valuable suggestions and rating because your feedback will help us to make further improvements in this cricket game.
Super Cricket Championship 1.0 Update