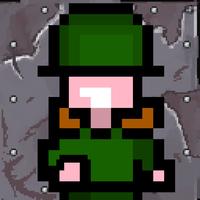 Super Death Fortress
Not Available
Removed
from the App Store
Screenshots for iPhone
More Screenshots for iPad
Super Death Fortress Description
Super Death Fortress

The great pixel wars devastated many a soldier. It was pixel against pixel as helmets flew, mortars were dropped, bombers were called in and adorably red, pixellated blood splattered everywhere.

It was such fun!

Join in Super Death Fortress and defend your fort of choice against wave after wave of snipers, soldiers and grenadiers, utilising your weapons strategically and efficiently as you blast wave after wave of enemies into a pixellated hell!

Super Death Fortress is a FREE TO PLAY endless artillery shooter where you'll earn coins, eviscerate enemy soldiers, upgrade your fort, blast apart enemy soldiers, unlock new levels, devastate enemy soldiers, purchase new forts and of course, annihilate enemy soldiers.

Join the cathartic fun! It's free to play, there's plenty of highly killable enemy soldiers and nothing quite relaxes you after Jim from accounting gave you a hard time more than war on the virtual pixel battlefield.

***

Super Death Fortress (www.superdeathfortress.com) is a game from Flat Earth Games (www.flatearthgames.com.au), creators of TownCraft (www.towncraftgame.com) and Metrocide (www.metrocide.com), a Sydney Australia-based studio run by brothers Rohan and Leigh Harris and a league of extraordinary developers.
Super Death Fortress 1.4 Update
To celebrate the launch of our Halloween spin-off, SUPER UNDEAD FORTRESS, we're releasing a sizeable update for Super Death Fortress!
In 1.4, you'll:
-- Enjoy being blown apart and blowing things apart near the New Pixel Desert's infamous PixelBase 51 - UFO sighting central!
-- Play as either a downed space capsule erroneously targeted by the army or as the spindly-but-powerful UFO owned by Kludspray the Clumsy Gray - the most beefy fortress in the game!
-- Be able to buy the coin doubler!
More