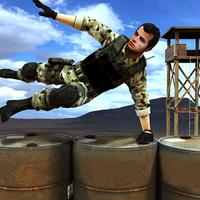 Super Training : US Army War
Not Available
Removed
from the App Store
Screenshots for iPhone
More Screenshots for iPad
Super Training : US Army War Description
Get into the US military army training school to prove your military fighting skills and become a military army commando soldier. Army training course is designed to prepare the young military army commando soldiers for war. The training includes physical & mental challenges that anyone who is willing to join military army as a commando soldier should pass. Military army commando soldier training is intense as well as challenging. It is designed to prepare the young soldiers to overcome any physical challenge they might face during the war times, while in a combat with the enemy or in the battle field. It also prepares them psychologically for the challenges to come.

In order to be selected as a commando soldier in the military army you will have to complete all the levels, missions and challenges given to you during you training. You will be given a tough schedule to follow. The schedule will require you to get up early in the morning for physical training & physical exercise in the training camp's ground. After the first training session in the morning you'll be given breakfast followed by another physical training session till the lunch time. After the lunch you'll have various sessions with senior commando soldiers and military army teachers for your mental strength building. Only a strong super will can help you pass all these training challenges to be a military army soldier commando. Every task and challenge in your training has been designed to help build your physical & mental health. You training will make sure you stay fit and in shape for any challenge that comes your way.

The grounds of super training camp are not ordinary grounds. They are full of challenging obstacles. Super military army has designed them to prepare the commando soldiers for war. They will prepare you for war & combat in all terrains. This training will teach you how to survive & overcome the challenges you will difficult areas & situations. You will survive this training only by successfully passing all the challenging training missions. Survive through inclined walls, cold water, muddy grounds, challenging pathways and barbed wires to reach your goal of becoming a military army commando soldier. This training is designed to enhance your war, combat and battle skills as well as your physical and mental fitness. So that when the US Army soldiers go into the war, they prove to be the real heroes. Super training is just here! It will keep you fit & ready to battle your enemy & defend your country. Training camp is your battle zone for now so give it all you've got & win this war to prove your worth!


Features of Super Training: US Army War:
- The best army training camp simulator.
- Military army obstacle courses just like the real ones.
- Plenty of missions to complete.
- Jumping, running, swimming, climbing all in one game!
- Realistic sound effects.
- Immersive 3D graphics.