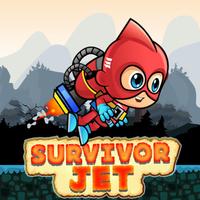 Survivor Jet
Free Get
Survivor Jet Description
You're armed with two legs and a jetpack. Are you ready?
Your aim is to keep your character running and flying as far as possible, collecting as many coins on the way in order to unlock new worlds. But, you must dodge and escape all the obstacles and traps set out to stop you!
Featuring infinite run style game play, your game will continue until you die, so keep going for as long as you can! Share your scores on Twitter, Instagram, Facebook and Snapchat and see who in the group message can survive the longest.
Survivor Jet isn't made for everybody. It takes true brain power and skill to be able to master the game and perform at a high-level consistently. We get it if you can't handle it.

But if you are up for it, we'll give you a little taste of what's to come.
Survivor Jet features:
- HD Graphics Quality
- THREE different worlds for you to explore!
- Ridiculously easy controls, just tap or tap and hold!
- Endless play, run until you can't run anymore!
- Fabulous Background Music
- and much more!

One of the greatest games brought to you in 2017.
Can you survive?

Brought to you by Games by Gogo! Follow us on Twitter, Instagram and Facebook @gamesXgogo for prizes, giveaways and more!
Survivor Jet 1.0.2 Update
Extra lives.
Just kidding, you still only have one -- so make it last.
Small bug fixes and improvements did come along though.
More
More Information
In-App Purchases:

500 Coins $1.99

1000 coins $2.99

2000 Coins $3.99

5000 coins $4.99

Remove Ads $0.99

More