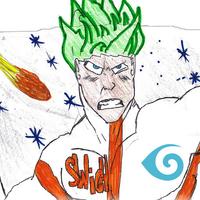 Swich Saves The Galaxy
Free Get
Screenshots for iPhone
More Screenshots for iPad
Swich Saves The Galaxy Description
Swich, one of the galaxy's most powerful heroes, is forced to battle against his best friends after they are brainwashed by a passing UFO that sprays them with poison brainwashing gas, making them want to conquer all the planets in the galaxy.

Written and illustrated by Kaydin Palmer, Shikane Singh, Jo Creamer and Jahlyle Murray.

Thanks to Gloria Smith and Murray Smith

In June 2014, Kiwa in conjunction with the Ministry of Education brought the 48HR SLAM to Hora Hora Primary School. Under the guidance of Matthew Donaldson, Luke Nola, Munro Te Whata and Behnaz Farzami, four students undertook an intensive two days of Digital Storytelling, culminating in this digital story told through striking artwork and narrated in the students' own voices.

The Kiwa team then took this amazing work and assembled it in the form of the Experiential Digital Book that is in front of you. Swipe through and immerse yourself in the story, and tap on the pictures to explore hidden elements.

Features include:

• Swipe-to-Read™ the words to hear and playback the story at your own pace.

• Auto Play to enjoy the narration. 

• Use the My Narration function to read and record the story yourself and customise your book.

• Touch the pictures to hear different sound effects. 

• See special animation effects bringing the picture to life. 
• Use the Colour Palette to paint each page! 



Requirements: 
Compatible with iPad,

Requires iOS 7 +


Patent Protection 532174

Patent Pending - All rights reserved 



Kiwa Digital produces multi-language digital content, creates IT solutions and develops products and services for the digital publishing and entertainment industries.
Swich Saves The Galaxy 1.0.1 Update
Updated with iPhoneX compatibility
More