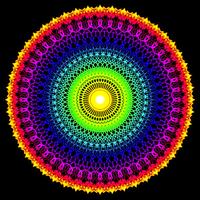 Symmetry Lab Basic
Free Get
Symmetry Lab Basic Description
"This application is AMAZING! One of my favorites!"

"One thing led to another and now I design and sell jewelry."

Symmetry Lab lets anyone make beautiful art. By instantly applying two-fold up to 128-fold symmetry, you can create intricate patterns with just a few strokes. Choose a brush size and style to create dazzling designs. Share your patterns with Facebook, Twitter, Instagram, and more.

Draw your own masterpiece or press play and let the generator create one for you. Symmetry Lab combines the self-expression of free drawing with the natural beauty of kaleidoscope apps. It's a powerful artistic tool that you'll respond to in seconds and play with for hours. From creative kids to experienced artists, anyone can get amazing results.

Follow @SymmetryLab on Twitter for cool patterns, offers, and updates.

Upgrade to the full version of Symmetry Lab for $0.99 to get:
- No more ads!
- Four times the symmetry. Push your patterns to the limit with up to 128 folds.
- Ten new colors, including rainbow, fire, ice, random, and multicolor settings that change as you draw.
- Two new grid styles, torus and fisheye, to warp and stretch your art.
- Presets: find the perfect combination of settings instantly.