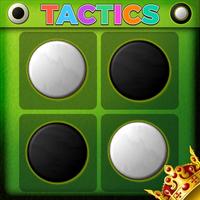 Tactics - Board Game
Free Get
Screenshots for iPhone
More Screenshots for iPad
Tactics - Board Game Description
Tactics Board Game is a logic game based on the international classic 'Tactics Board Game' challenging you to get your colored pieces to dominate the entire board. Enjoy heart-stopping games playing against artificial intelligence. Just don't give up, no matter how difficult the match is.

Playing the traditional way is also an option so, if you know the rules of tactics board game so you won't have any problems with this app. Just like the real board game, tactics board game has eight columns, eight chips and 64 colored pieces; black and white. You'll place your pieces first and you can choose the starting system, although the center pieces start in classic default mode.

Be careful though, because it'll put you against a rock and a hard place more than once if you don't pay close attention! Show off your creativity and your concentration skills playing one of the oldest games in the world.

Rules :
Each Tactics board game checker is black on one side and white on the other. White plays first and places a checker, black side uppermost, on any square on the board such that he 'sandwiches' at least one of his opponents pieces between the checker he has just placed and any other of his colour already on the board. Play continues alternately... First White, then Black. If at any time a player does not have a legal move i.e. there is nowhere he can play that flips one of his opponent's checkers, he must pass and his opponent plays again. It is possible to pass several times in succession. When neither player has a legal move (usually when the board is full but not always) the game ends. The winner is the player with the most pieces of his colour showing

The object of the game is to have the majority of disks turned to display your color when the last playable empty square is filled.
Tactics - Board Game 1.2 Update
Performance Improvement.
More