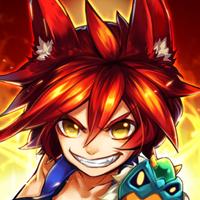 Tales of Loss
Free Get
Screenshots for iPhone
More Screenshots for iPad
Tales of Loss Description
Back to the Stone Age, a tale deep inside the primitive jungle is beginning. You have to witness and create your own legend with heroes! Beat down all the villains and monsters, what's more, save your princess!

Collect all kinds of heroes, choose the most effective matches, defeat vicious monsters and save the world in danger! It's urgent! Go to summon your fellows and get start the journey. And don't forget to upgrade your heroes and skills, which is very essential to defeat the villans.

*Calling of Fate
The Heart is gone, the people are dying, the forest is crying. Disasters are raging. Brave heroes are called to step up, retrieve the treasure and defeat the wicked. So the world can be saved. Pack your luggage and get ready to have thrilling and fatal adventure!

*Matching Blocks Balltle System
Heroes in this era are provided a new battle skill to compete devils. Match skill blocks to annihilate all opponents. The quicker you move, the more enemies will be terminated. A filled-up power meter is necessary when using the special skills of heroes.

*Greatest Heroes Ever Coming
Over 200 heroes including heroes of 6 unique classes are huge powers to take the evil down. The Berserker gives strength, the Priestess gives cure, the Archer gives accuracy, the Guardian gives protection, the Shaman gives miracles, the Caster gives speed.

*Invisible Villans to Fight
Follow the trails of forests, birds, rivers and flowers,heroes fight hard along the way. They become more and more stronger as well as powerful, whereas more and more fiends appear. The Heart is still missing. The final villan is still uncovered.

*Balltle Scar Carved on Honor
Summoon the greatest heroes, defeat monstrous creatures, get thousands of trophies and claim noble honors and achievements. Time will heal the battle scars and friends will comfort the weary souls.

*Quest for Redemption and Love
In the ten thousand crags and torrents, during the changing seasons and days and nights, someone is lost, someone is loved and someone is of hatred. Yet they still stay together until dawn. There is a wind whispering in the air telling the legend.